African-European Narratives
Welcome to African-European Narratives
Sharing stories ...
uncovers the diversity of Europe and help us making sense of who we are.
Your story matters ...
to deepening our historical consciousness about the relation of Europe and Africa and fostering a real post-colonial.
Participate as co-author ...
in this collective work and research.
It may take only a few minutes ...
to share an inspirational story!
---
[Abstract]
AFRICAN-EUROPEAN NARRATIVES is a project about the links of European citizens with African countries and cultures, rooted in their personal and family stories and the History of Africa and Europe. Participants are invited to share stories about African descent and colonial post-memory, about diaspora, homecoming and migration, and also about the everyday rich interplay of African and European cultures in today's Europe. The aim is to raise awareness and foster appreciation of a diverse and multicultural present, especially among younger generations.
Telling stories deepens our memory and imagination and helps us making sense of who we are. It broadens our horizons by uncovering the cultural diversity of contemporary societies and multiplying the voices that can be heard. That is why stories are powerful artefacts in the fight against dominant narratives and ideology. They allow us to rediscover the complexity of History, to relate personal experience to collective memory and to open up a transindividual space of experience.
AFRICAN-EUROPEAN NARRATIVES is also a project of Digital Arts and Humanities. It fosters new forms of activism and cultural critique as well as creative use of media and the Internet. The goal is to gather a Digital Atlas of Stories told in words, images and sounds that will be shared on a collaborative web platform. Telling stories in an intermedia environment unlocks the diversity of cultural expressions allowing, at the same time, for their contamination. Sharing them across digital networks disregards national boundaries, connects communities, and reveals new cultural geographies.
The collaborative production of a digital atlas of stories is a challenge at once creative and analytical. On the one side, It invites each participant to find their voice as an author and to rediscover the love for the learning value of stories, contrary to the dominant role of doxa in other social uses of media and the internet. On the other side, it generates a significant amount of heteroclitic data, based on the interweaving of the real and the imaginary. However, the mapping of these stories may lead to the discovery of new connections between past and present, facts and affections, memory and imagination. Furthermore, It fosters new ways of representing and thinking about our collective experience while safeguarding the integrity and accessibility of every individual story.
AFRICAN-EUROPEAN NARRATIVES is an invitation to re-imagining Europe and contribute to its postcolonial cartography. Its goal is to transcend the circles of national narratives, dissolve their imaginary homogeneity and disrupt the politics of identity and otherness. It is an invitation to enter a shared space of enunciation, to navigate the complexity of the post-colonial condition and contribute to the emergence of the new configurations that must follow.
AFRICAN-EUROPEAN NARRATIVES is a project of the Europe for Citizens Programme that also joins the proclamation of the International Decade for People of African Descent (UN, 2014-2025).
---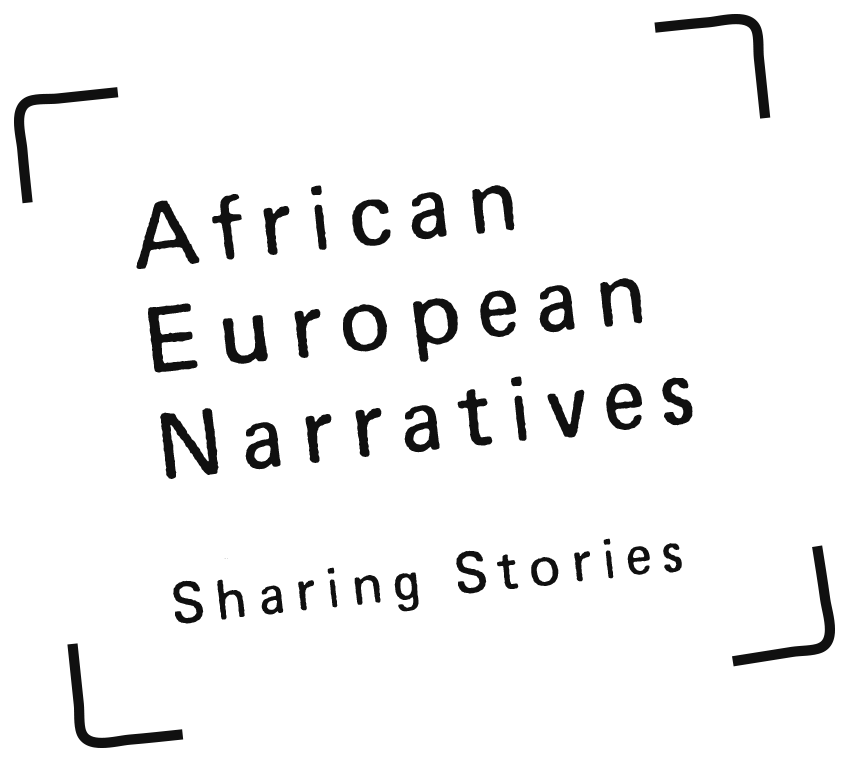 AFRICAN-EUROPEAN NARRATIVES
A project of NOVA FCSH
(Faculty of Social Sciences and Humanities, NOVA University of Lisbon (Lisbon, PT)
With the support of programme EUROPE FOR CITIZENS

---
Principal Entity
NOVA FCSH - Faculty of Social Sciences and Humanities, NOVA University of Lisbon
Partners
AFRØPEAN - Adventures in Afro Europe (London, UK)
BUALA - Multidisciplinary Portal on Decolonization and Global South Issues (PT)
ICNOVA - NOVA Institute of Communication (Lisbon, PT)
PRSD – Providers of Social Responses For Development (Lisbon, PT)
SAVVY Contemporary - Laboratory of Form Ideas (Berlin, DE)
UNESCO Chair – Emergent Practices of Communication and Technology for development, MICA Lab, University Bordeaux-Montaigne (Bordeaux, FR)
MICA Lab, University Bordeaux-Montaigne (FR)
---
Project Team
NOVA FCSH - Faculty of Social Sciences and Humanities of NOVA University of Lisbon (Lisbon, PT)
Principal Researcher
Maria Teresa Cruz
Research and Edition
Alexandra Magnólia
Cláudia Madeira
David Justino
Madalena Miranda
Maria Augusta Babo
Maria Teresa Cruz
Nuno Correia
Afro-European Cartography of Culture,
Language and Arts
Executive Editorial Board
Maria Augusta Babo (Coordinator)
Cláudia Madeira
Madalena Miranda
Maria Teresa Cruz
Marta Lança
Art Direction
Ana Grave
Maria Teresa Cruz
Audiovisual Production
Madalena Miranda (Coordinator)
João Meirinhos
Curation and Events
António Mendes
Cláudia Madeira
Maria Teresa Cruz
Content Development
António Mendes
Inês Morais
João Meirinhos
Juliana Espanhol
Design Project
Ana Grave (Artistic Direction)
Rui Mendes
Contributive Webplatform
Concept and Art Direction
Maria Teresa Cruz
Ana Grave
Digital Development
Bagabaga Studios
Communication and Production Management
Lara Branco
Institutional Website
Patrícia Contreiras
Lara Branco
Data Protection Officer (DPO)
Rodrigo Adão da Fonseca
Executive Assistant
Inês Morais
Administrative Assistant
Natália Honório Manso
---
Participants / People
Stories
BEST African-European Narrative
Smith Lima Mendes (PT)
Mimosa Legentilhomme (FR)
Jihad Rayan (DE)
AFROPEAN Awards
Afolabi Kelvin (KE)
Catarina Letria (PT)
Diogo Moreira (PT)
Luís Gonçalves (PT)
Marco Roque de Freitas (PT)
Testemonies
Afrodeutsche/Henrietta Smith-Rolla (composer, musical producer), DE
Alain Kiyindou (President of UNESCO Chair, Bordeaux-Montaigne University), FR
Jérémy Moussaïd (musical producer, performer), FR
Johny Pitts (editor of Afropean, writer and photographer), UK
Kalaf Epalanga (writer), PT
Kiluange Liberdade (film maker), PT
Lady G. Brown (Dj)/ Maria Luísa S. Gabriel (musician), PT
Zia Soares (actress, artistic director of Teatro Griot), PT
Invited Artists
Akindode Akinbiyi, UK
Vasco Araújo, PT
Invited Speakers
Debate Cycle AFRICAN-EUROPEN NARRATIVES
Alberto Júnior
Alexandra Prado Coelho
Ana Balona de Oliveira
Ana Paula Tavares
Ângela Ferreira
António Branco
Ariana Furtado
Beatriz Gomes Dias
Carla Baptista
Cláudia Madeira
Cristina Roldão
David Justino
Delfim Sardo
Diana Andringa
Dulce Maria Cardoso
Elisa Valério
Fernanda Rollo
Francisco Caramelo
Francisco Vidal
Inocência Mata
Jérémy Moussaïd
Joana Gordão Henriques
João Costa
Johny Pitts
João Miguel Tavares
José António Pinto Ribeiro
José Leitão
Kalaf Epalanga
Kiluange Liberdade
Lúcia Furtado
Luís Vitorino
Mamadou Ba
Margarida Calafate Ribeiro
Maria Augusta Babo
Maria Teresa Cruz
Marta Lança
Pedro Aires de Oliveira
Pedro Cardim
Smith Lima Mendes
Sónia Magalhães
Susana Trovão
Teresa Lino
Tiago Fortes
Vasco Araújo
Yara Monteiro
Zia Soares
Invited Researchers
Afro-European Cartography of Culture, Language and Arts
Achille Mbembe (University of Witwatersrand, Johannesburg and Duke University, USA)
Alain Kiyindou (Université Bordeaux-Montaigne, Chair UNESCO)
Alexandra Magnólia Dias (NOVA University – IPRI)
Ana Maria Martinho (NOVA University – CHAM)
Ana Paula Tavares (University of Lisbon – CLEPUL)
Ângela Ferreira (Faculty of Beaux-Arts, Univ. of Lisbon – CIEBA)
António Sousa Ribeiro (University of Coimbra – CES)
António Tomaz (University of Johannesburg)
Boaventura Sousa Santos (University of Coimbra – CES)
Bonaventure Soh Bejeng Ndikung (Savvy Contemporary, Berlin)
Elisio Macamo (University of Basel)
Fernando Rosas (NOVA University – IHC)
Iolanda Évora (ISEG - Center of Studies on Africa and Development)
Inocência Mata (University of Lisbon – CEC)
Manuela Ribeiro Sanches (University of Lisbon – CEC)
Margarida Calafate Ribeiro (University of Coimbra – CES)
Maria Paula Meneses (University of Coimbra – CES)
Miguel Cardina (University of Coimbra – CES)
Moisés Lemos Martins (Minho University - CECS
Paul Goodwin (University of the Arts, London)
Paulo Inglês (University of Beyreuth and Polytechnic Institute Jean Piaget, Benguela)
Pedro Aires de Oliveira (NOVA University – IHC)
Ricardo Roque (University of Lisbon – ICS)
Ricardo Soares de Oliveira (Oxford University – St Peter's College)
Rute Costa (NOVA University of Lisbon – CLUNL)
---
Participants / Entities
AE FCSH - Students Association of NOVA FCSH
Filipa Silva
Gonçalo Veiga
Joana Freitas (Director)
João Afonso Carvalho
AE FCSH - NEAL- Group of African and Lusophon Students
Adélio Alcântara
Amos Katula
Livonildo Mendes
Márcia Lobo
Marco Serote
Mariana Álvares
Nivonildo Mendes
Smith Lima Mendes (Director)
AE FCT-UNL - NEA - Group of African Students
Tiago Fortes (Director)
AFRØPEAN – Adventures in Black Europe (London, UK)
Johny Pitts
BUALA – Multidisciplinary Portal on Decolonization and Global South Issues (Lisbon, Pt)
Marta Lança (Director)
PRSD – Providers of Social Responses for Development (Lisbon, PT)
Ludgero Silva
Sónia Magalhães (Director)
University of Bordeaux-Montaigne (Bordeaux, FR)
UNESCO CHAIR – Emergent Practices of Communication and Technology for Development
MICA Lab Médiations, Informations, Communication, Arts
Alain Kiyindou
Lynda Kaninda
Invited
Joseph Djehuti Biyong (Auteur, Bande Déssinée)
Nancy Traoré (Conseillère Municipale du Bouscat, Association Afric Fusion)
Fatiha Bozdag (Maire Adjointe de Secteur, Déléguée à la Promotion de la Diversité)
Pascal Rocca (Directeur Air France Bordeaux)
SAVVY CONTEMPORARY (Berlin, DE)
Bonaventure Ndikung (Director)
António Mendes
Lynhan Balatbat Lema Sikod
Invited
Paul-Löbe-Schule, Berlin
Annike Niemann
Isabelle Siché
AEAL – Angolian Students Association of Lisboa
Luís Vitorino (Director)
AGBP – Guiné Bissau Students Association in Porto
Alberto Júnior (Director)
CulturFACE
Celso Soares (Diretor)
GENERATION Orchestra
Filipa Jordão (Coordinator)
João Garcia
Escola Básica do Castelo (EBC, Lisboa)
Ariana Furtado
Escola Secundária do Monte da Caparica (ESMC, Caparica)
Elisa Valério
Isabel Santos (Director)
Jorge Veloso
Victor Santos Monteiro
Escola Secundária Azevedo Neves (ESAN, Amadora)
Bruno Miguel Santos (Director)
Gilberto Nogueira
Escola Secundária Ferreira Dias (ESFD, Agualva – Cacém)
António Santos Lina Alves (Director)
Escola Secundária Filipa de Lencastre (ESFL, Lisboa)
Maria José Mira
Escola Secundária Pedro Nunes (ESPN, Lisboa)
Maria Guedes
Escola Secundária de Sacavém (ESS, Sacavém)
Margarida Baptista
Maria Teresa Gomes
Maria do Rosário
Escola Superior de Educação de Coimbra (ESEC, Coimbra)
Isabel Calado
Escola Superior de Comunicação de Lisboa (ISCS, Lisboa)
Margarida Carvalho
Facultad de Bellas Artes - Universidad de Castilla-La Mancha
José Luis Panea Fernández
Instituto Politécnico de Portalegre (IPP, Portalegre)
Vanda Correia
Library of NOVA University of Lisbon (FCT-UNL, Caparica Campus)
Ana Roxo
José Moura (Director)
Plataforma Reflexão Cívica
Carla Santos
Andredina Cardoso
---
Sponsors


Editora Leya
Editora Guerra & Paz
Penguin Books
---
Contacts